Aviary Green Framed Fine Art Print
In Stock
'Love my framed print. Colors are vibrant and the framing is very professionally done.' - Sylvie (AUS)
◎ FSC® certified wood frame, enhanced matte fine art paper + acid-free mount board = 100% forest friendly

◎ UV resistant perspex glaze
◎ Produced in USA, EU, UK + AU
◎ This treasure = 3x the good



Everyday Fine Art
Ready to Hang on Arrival... or Hang About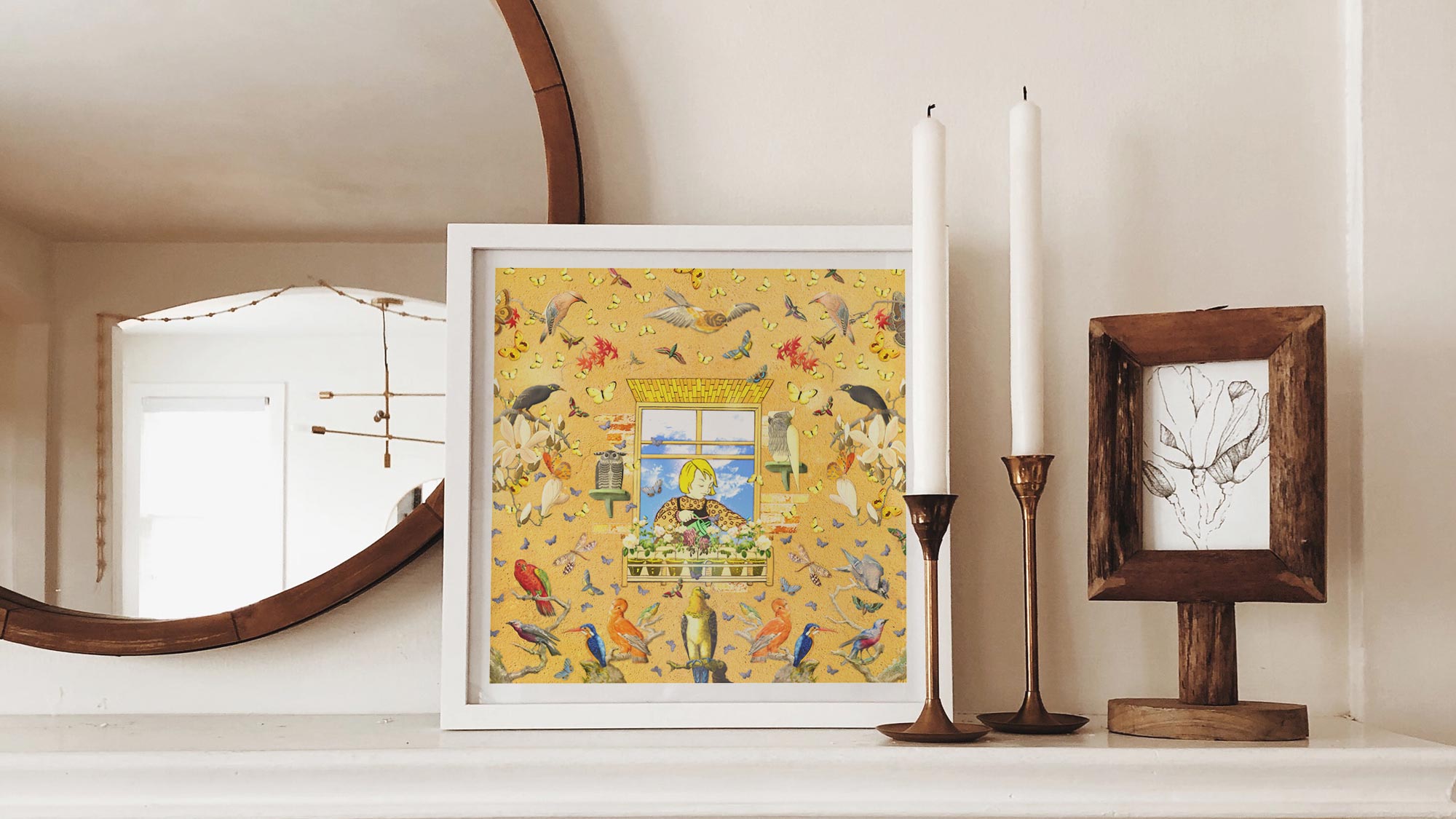 Whimsical Birdsong Ballad
Lose yourself in the bewitching allure of our Aviary Green Framed Art Print. This entrancing fine art print offers a dazzling display of artfully depicted birds, nestled among a hypnotic woodland pattern. The bird motif is lovingly crafted, coaxing you to dive into this vibrant world of spirited beings flying through nature's embrace.
Botanical Rhapsody Blend
This captivating framed print is the ideal fusion of feathery frolics and the enchanting beauty of botanical marvels. The bird motif seamlessly interweaves with the forest scene, forging a harmonious composition that evokes the splendor of life within lush, verdant wilderness. And any of our 3 frame colors will tenderly enhance this artwork. Offering a polished touch that augments the visual charm of any nook it adorns.
Evergreen Artistic Enchantment
Our Aviary Green Framed Art Print is not only a nod to nature's magnificence, but also a nod to the undying allure of fine art prints. Whether you're a seasoned art aficionado or a blossoming enthusiast, this framed print is sure to beguile with its elaborate bird motif, vivacious woodland details + impeccable framing. Imbue your domain with an air of whimsy and sophistication with this spellbinding piece.
Ready To Hang On Arrival
Delivered fully strung and ready to hang right out of the box.
Milled with simple, clean lines. Presented with a satin finish.
Lightweight and robust.
Perspex glaze.
Satin laminated finish for added protection.
Delivered Safe 'n' Sound
Delivered in rigid, double-walled corrugated cardboard box, ensuring maximum protection.
3 Frame Colors
Available in black, white or natural.
Frame has a square profile measuring 20mm (front face) by 23mm (depth from wall).
Enhanced Matte Art Paper
A premium quality heavyweight fine art print material with a smooth, clean finish. This museum-quality paper is extremely consistent and works perfectly with large, full colour graphics or illustrations.
The matte finish emphasises different highlights and tones in the source artworks; helping to create stunning works of art.
Forest Stewardship Council — Inside & Out
Created from high-quality, sustainably sourced wood (FSC certified).
FSC Certified enhanced matte art paper
Flush surface mount — "conservation grade", sustainably sourced, 100% acid free, and will not discolor or fade with age.