10" Metallic Floret Round Basket - African Woven Wall Art Decor
'I love this and everything I have bought from KAZI. One-of-a-kind pieces, handmade with love and skill that light up a room.' - Susan (USA)
Only 26 Left In Stock...
+ 20% OFF: Buy any 2 KAZI pieces to save
+ No returns / exchanges - end of line stock
+ FREE carbon neutral shipping
+ USA only: ships from California
+ Ethically handmade African fair trade
+ Your new treasure = 3x the good

Handmade In Africa
Weaving Hope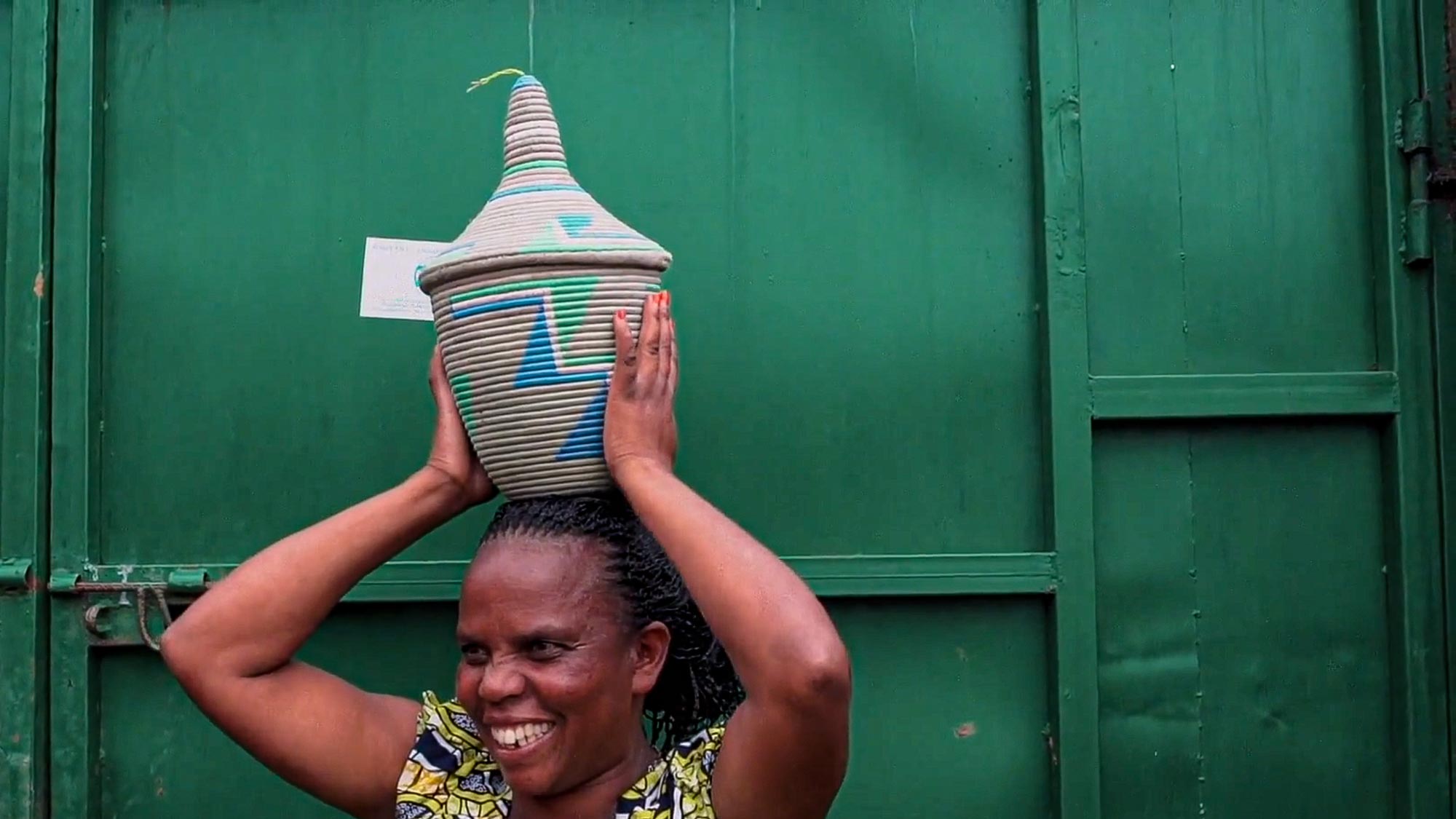 Kazi Goods - HANDMADE AFRICAN BASKET from RWANDA
Not too big, not too small, Kazi's 10" Metallic Floret Handwoven Round Basket is timeless. A smaller fruit bowl for your countertop, an easy piece to hang on the wall, or the perfect size catch all for keys and clutter on your entryway furniture. This round bowl was created with you in mind. You can also use this African woven basket as a serving bowl for your favorite fresh fruit.
The silky fibers and exquisite color of the basket will satisfy the senses with every glimpse. Each basket has a hand-stitched loop on the back for a ready to hang piece of wall art. This durable basket is versatile, attractive, and practical. This handmade basket is the perfect accent to any room and will be enjoyed for years to come.
Specifications:
Approximately 10" D x 3" H

Fair Trade

Made in Rwanda

Products are made from all natural fibers of sisal and sweetgrass

Organic dyes are used to dye the sisal

Profiled weaver tag is attached to each product

Baskets have a hang loop on the back for wall décor - ready to hang
*All products are made by hand with love and vary slightly in color and size.
Made of the highest quality natural sisal fibers in an ethical, fair trade environment. Sisal is wound stitch by stitch around a small sweet grass bundle. Handwoven by a woman in remote regions of Rwanda.
Meaning & Purpose

With a storied reputation for the finest basket weaving, Rwandan women have passed this skill from the hands of mothers to the hands of daughters for centuries. With multiple purposes, uses, and designs, these baskets are more than just tools for Rwandans. They are ornaments, heirlooms, art, gifts, symbols of culture, pieces of tradition, and embodiments of friendship. They are a source of pride for the nation as well as a livelihood for thousands. In many ways, baskets are deeply tied to the identity of Rwanda.
Care Instructions

Cleaning

• Made of natural fibers and grass; do not submerge in water.
• If  necessary, use a damp cloth to wipe or spot clean.
• Avoid using chemicals or detergents.

Sun and fading

• Due to being all natural fibers, keep dyed products out of direct sunlight for long periods of time to avoid natural fading.
• All natural products with little or no coloring do well in direct sunlight.

Moisture

• Avoid soaking, if spilled on and soaked, ensure to pat dry and air out, or mold could build up and the natural dyes could run.
Your Purchase Makes 3x Real-World Impacts:
1. Every treasure on our store is socially responsible — ethically produced by artists, makers, crafters and creators paid fair wages in safe and generous working environments.
2. Every treasure has local & sustainable giveback baked in through our partnership with Buy1Give1 — so your purchase directly impacts people's lives, helping communities across the world thrive.
3. Every treasure = 1 tree planted through our partnership with the Eden Reforestation Project — if you purchase 3 treasures, we plant 3 trees, because less isn't always more.
Everything we buy is a vote for the world we want to live in...
More Art Decor from Kazi
Meet the Family