"Not All Who Wander Are Lost" Genuine Leather Passport Cover by Soothi
Only 88 Left In Stock...
'Bought it for a woman who has everything and she was genuinely touched.' - Raia (USA)
◎ Free shipping — carbon neutral, too
◎ Available in continental USA only
◎ Ethically handmade in USA and India
◎ This treasure = 3x the good

Sooth Leather Bound Journals
Do Something Worth Writing About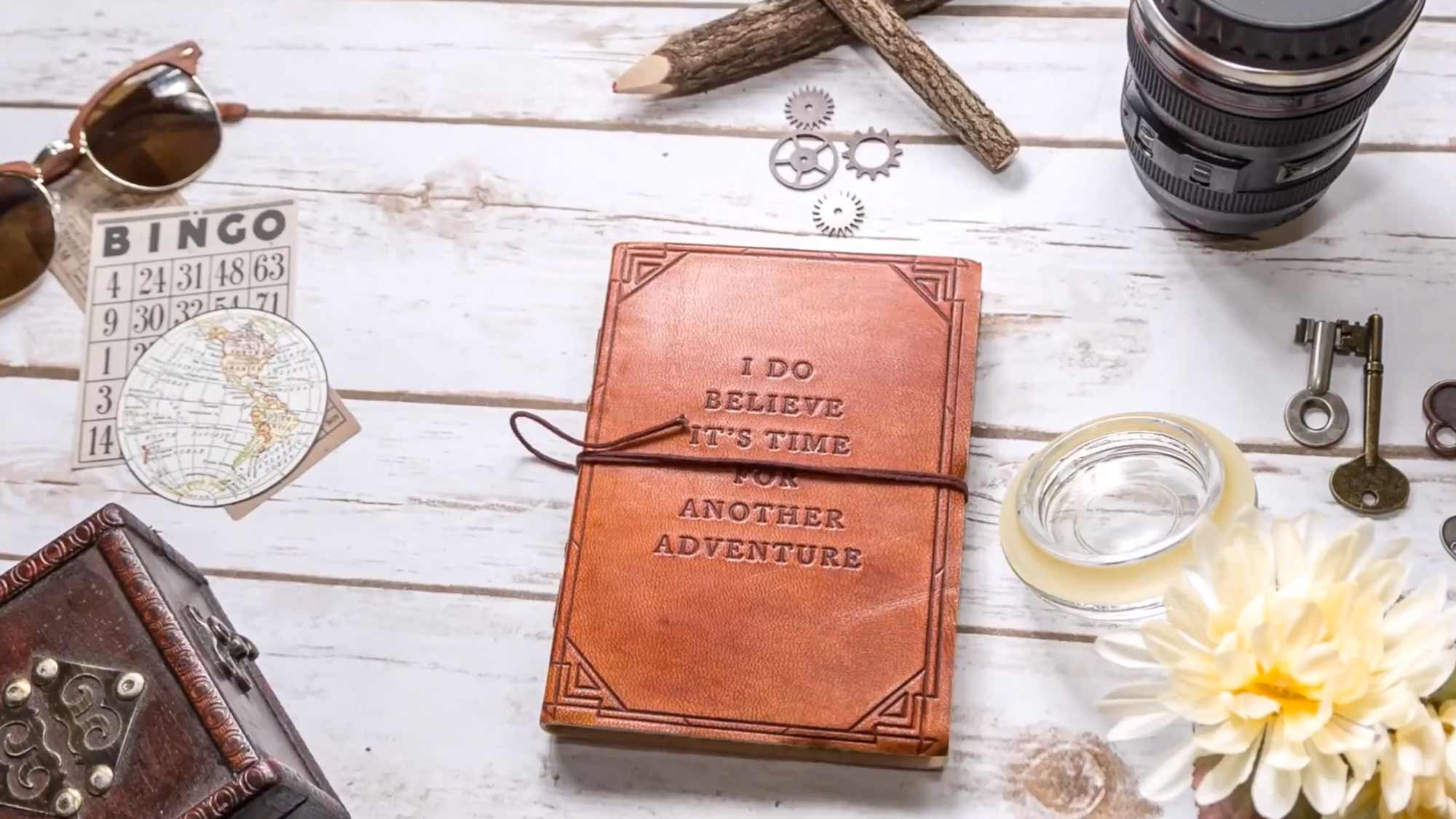 Soothi Handmade Journals Loved By






Embrace Your Wanderlust with Tolkien-Inspired Genuine Leather Passport Cover
Travel in Style and Confidence
Discover the ultimate travel companion with the "Not All Who Wander Are Lost" genuine leather passport cover by Soothi. Imprinted with J.R.R. Tolkien's timeless wisdom, this exquisite accessory not only protects your passport but adds a touch of elegance to your globetrotting adventures.
Uncompromising Functionality and Quality
Crafted from high-quality genuine leather, this purple passport cover boasts a standard size (5.5" x 4") that fits passports from around the world. With three inside pockets, all your travel essentials stay organized and accessible, making your journey a breeze.
Colorful Expression of Your Adventurous Spirit
Please note that color discrepancies may occur between the product and your computer screen. But rest assured, this vibrant passport cover will undoubtedly become a cherished part of your travel memories.
• Genuine upcycled leather cover
• Paper is tree-free and environmentally friendly
• 100 pages of white color handmade cotton paper with sublet specks of fiber
• Soothi's materials have natural faults and lines that make every piece unique.
What Writing Mediums Can I Use On The Paper?
You can use your new journal for water coloring, fountain pen writing, sketching, and art journaling. While the weight of Soothi's tree-free paper limits bleeding, it also buckles when exposed to too much water. Our suggestion would be to use watercolor sparsely across the journal, and to patch test first before going all in.
Why Does My Journal Have Marks On The Cover?
Since we use repurposed leather that would otherwise be waste, this leather often has natural marks and spots. These marks and scars present themselves on the cover of our journals. We like to believe they add to the vintage look and feel of our products.
How Eco-Friendly Is This Journal, Really?
Soothi's mission is to use natural and organic materials that pre-exist in the world to create their handmade journals . This is why they source upcycled leather and use paper made of recycled cotton waste. Soothi also plants a tree for each journal sold, in partnership with One Tree Planted.
Handmade Product Disclaimer
As with all handmade and small-batch items, no two pieces are exactly the same. Since Soothi use recycled and upcycled materials, variations in size, color, and design will occur naturally.
Soothi guarantees the quality of their handmade products, and they hope you enjoy and celebrate these variations and natural imperfections as much as they do.
How Do I Care For My Leather Journal?
Keep leather items out of the sun. The sun will dry the leather out and cause it to become brittle.
Don't store your leather products in plastic bags.
Don't leave your items in a humid or wet basement – this could promote the growth of mildew.
If the journal cover needs to be cleaned, try to brush your leather down with a damp cloth and let it sit at room temperature to dry.
Before using any leather cleaning products, please TEST a small patch first and see how the leather reacts to it.
Your Purchase Makes 3x Real-World Impacts:
1. Every treasure on our store is socially responsible — ethically produced by artists, makers, crafters and creators paid fair wages in safe and generous working environments.
2. Every treasure has local & sustainable giveback baked in through our partnership with Buy1Give1 — so your purchase directly impacts people's lives, helping communities across the world thrive.
3. Every treasure = 1 tree planted through our partnership with the Eden Reforestation Project — if you purchase 3 treasures, we plant 3 trees, because less isn't always more.
Everything we buy is a vote for the world we want to live in...
More Journals and Notebooks
Meet the Family
About Soothi Handmade Journals
CREATE AND CURATE - Soothi believes in the power of inspiration. That's why they create and curate inspired accessories for inspiring people. Their handmade leather journals with quotes are perfect for capturing your thoughts, ideas, and motivations.

FOR INSPIRING PEOPLE - Soothi created their embossed leather journals with you in mind. Whether you're an artist, writer, student, or just need a place to organize your thoughts, Soothi's journals are made for your journey of discovery.

PURPOSE AND PASSION - Soothi's custom leather journals are more than utility items. They're catalysts and containers for creativity and change. They're purposeful, universal objects that physically and personally connect you to our greatest inspirations, aspirations.
This handmade leather-bound journal is truly one-of-a-kind. An excellent companion for memories, adventures, random thoughts or brilliant ideas. Handmade with natural and organic materials, like upcycled leather and tree-free paper made of recycled cotton waste.
Soothi's artisans — many of whom belong to disenfranchised groups in developing countries — are all fairly compensated and supported, so they can better support their families and communities.
More than a journal — dreams made real: This isn't a work surface. Your new journal's a landscape. A self-portrait. A stage. It's a launch pad. Treasure chest. Home-base and H.Q. It's where it all starts. Where the magic happens. Where dreams become reality. It's the one dedicated place, throughout history, across the globe, where we all go to think, learn, write, sketch, plan, invent, improve and reimagine. 
SUPPORTING ARTISANS AROUND THE WORLD - Soothi is a handmade leather journal company that believes in giving back. They work with artisans in developing countries who are fairly compensated and generously supported. You can feel good knowing your purchase actively helps improve the lives of others.

GIVING BACK IS PART OF SOOTHI'S DNA - Soothi is committed to sustainable materials and practices, so they can have a positive impact on the world. A portion of every Soothi purchase goes towards organizations like One Tree Planted and Feeding America.

SUSTAINABLY MADE - Soothi uses recycled leathers and tree-free paper in their journals, notebooks, and other stationery items. This allows them to reduce their negative environmental impact, while helping preserve the planet's
Shop Kind, Live Bold, Glow Deep