Flashlight Flicker by Manhattan Toy
In Stock
◎ Free shipping — carbon neutral, too
◎ Available in continental USA
◎ Produced by folks paid fairly
◎ This treasure = 3x the good

Manhattan Toy
Is it a bug? A flashlight? It's both! Flicker the flashlight bug is a child-size flashlight with a removable plush exterior. Light your way through playtime adventures using the on/off button under the wings. Flicker comes with two replaceable AA batteries. To replace the batteries, lift the hook and loop closure located under the wings and pull the fabric covering away from the flashlight face. Twist the head of the flashlight counter-clockwise to access the battery compartment.
Ages 3 years +
Closed book measures 5.5 L x 3 x 3 H inches
Surface wash only
This product meets or exceeds EN71 and CPSIA safety regulations
Your Purchase Makes 3x Real-World Impacts:
1. Every treasure on our store is socially responsible — ethically produced by artists, makers, crafters and creators paid fair wages in safe and generous working environments.
2. Every treasure has local & sustainable giveback baked in through our partnership with Buy1Give1 — so your purchase directly impacts people's lives, helping communities across the world thrive.
3. Every treasure = 1 tree planted through our partnership with the Eden Reforestation Project — if you purchase 3 treasures, we plant 3 trees, because less isn't always more.
Everything we buy is a vote for the world we want to live in...
More Toys for Babies and Toddlers
Meet the Family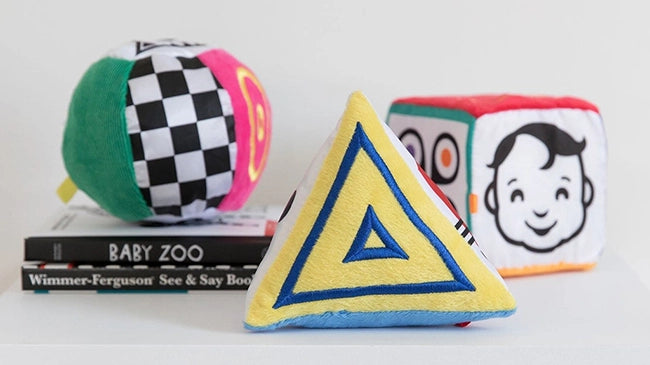 Best Manhattan Baby Toys For Safe, Engaging Development
Discover the benefits (and wide range) of developmentally appropriate FUN from Manhattan Toy Company...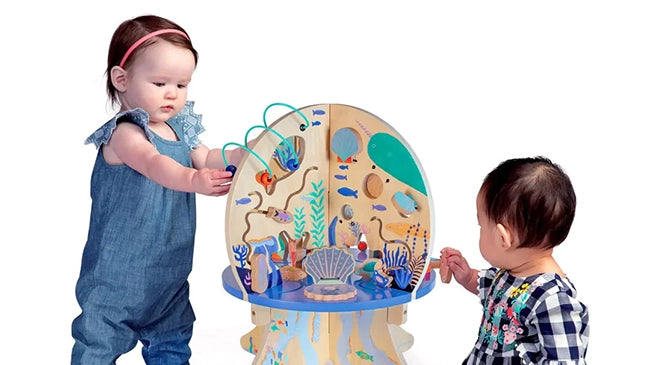 Free Toddler's Imagination with Manhattan Toys for 24mth - 3yr
Take a look at the best toys for toddlers aged 24mth - 3yr that stimulate imagination and encourage development.
Manhattan Toy FAQs
Discover the Trusted Name in Educational Play
For those seeking imaginative and educational toys, Manhattan Toy Company is the go-to brand. Their extensive range of high-quality, award-winning toys cater to children of all ages, with a focus on developmental play.
Manhattan Toy believes in promoting early childhood development through playtime, and their toys do just that.
With hundreds of best-selling products in their portfolio, Manhattan Toys provide the right level of challenge at the right time, encouraging problem-solving and imaginative play.
Trust in Manhattan Toy Company to provide your child with the perfect playtime experience.
Read more about Manhattan Toy Company.
Look no further — you have arrived! As an authorized retailer of Manhattan Toy Company, we offer a wide selection of their high-quality and award-winning toys for children of all ages. Here's our selection of Manhattan Toy collections...
Treasure Chest
Dolls and Plushies
LEGO
Toys
Looking for high-quality, award-winning toys that promote cognitive, emotional and social development in children of all ages? Look no further than Manhattan Toy Company! From early childhood development toys to educational and imaginative play toys, their extensive collection has something for everyone.
Best-sellers such as the Atom Teether Toy, Tree Top Adventure Activity Center, and Skwish Classic Rattle and Teether are just a few examples of their exceptional offerings. Experience a trusted brand in the toy industry by browsing the full line.
Manhattan Toy's extensive range of toys cater to children of all ages, from infants and toddlers to preschoolers and school-aged kids.
Manhattan Toys are as fun as they are educational. Every toy from Manhattan Toy Company has been designed to promote cognitive, emotional, and social development through imaginative and developmental play.
With the right level of challenge for each developmental stage, parents can feel confident that their child is learning and growing with every play session.
Manhattan Toys are thoroughly tested to meet or exceed international safety standards, including the U.S. Consumer Product Safety Improvement Act, ASTM F963, EN71, and SOR.
Plus, Manhattan Toy are committed to social responsibility and sustainability, using eco-friendly materials wherever possible and ensuring all production partners share their socially responsible values.
With Manhattan Toy Company, you can trust that every toy is of the highest quality and safety, giving parents peace of mind during playtime.
Orders and Shipping FAQs
At this time, we only ship Manhattan Toy treasures to the continental USA.
Please allow 1-2 business days for order processing + 3-5 days for delivery.
Not satisfied with your ordering experience? No worries - you're backed by the Manhattan Toy smile promise: Joy with every toy— or we'll make it right! 
If for any reason you choose to return a Manhattan Toy, we'll take it back. We'll even pay for the return shipping costs. Pet toys and wholesale orders are not eligible.
Important
To initiate your return, start here.