Double Tree of Life Metal Wall Art 24-inch Diameter
Only 36 Left In Stock...
'This is the coolest enamelware I've ever found. So unique & not 'cookie cutter perfect'. Everyone comments on how much they love them.' - Bobbi (USA)
◎ FREE carbon neutral shipping
◎ USA only: shipped from Ohio in 3-4 days
◎ Ethically made, eco-conscious decor
◎ Woman-owned and operated
◎ Handmade by artisans in Haiti
◎ This treasure = 3x the good

Add a Touch of Elegance to Your Home with the Double Tree of Life Metal Wall Art
Are you looking for a unique and eye-catching piece to add to your home decor? Look no further than the Double Tree of Life Metal Wall Art. Crafted from recycled 55-gallon steel drums by talented village artisans in Haiti, this stunning 24-inch diameter piece is a true work of art.
Ethically Made and Environmentally Conscious
The process of turning sheets of metal into beautiful art is all done by hand, ensuring that each piece is completely one-of-a-kind. And the use of recycled and upcycled materials makes this piece not only beautiful but also environmentally conscious. But that's not all. The Double Tree of Life Metal Wall Art is also fair trade and ethically made at every stage. Meaning you can feel good about your purchase knowing you are supporting a community of skilled artisans.
Versatile Design for Indoor or Outdoor Use
This piece is not only visually stunning, but it is also versatile enough to be used both indoors and outdoors. Whether you want to add a touch of elegance to your living room or make a statement in your outdoor space, the Double Tree of Life Metal Wall Art is the perfect choice.
An Exceptional Work of Art
The Double Tree of Life Metal Wall Art is a truly exceptional work of art. Its unique design, environmentally conscious materials, and ethical production make it a standout piece that will add beauty and elegance to your home while also supporting a worthy cause.
Suitable For Indoor Or Outdoor Use:

• Each piece of metal art, whether painted or natural, is coated with a layer of clear lacquer to protect the metal from any rust.
• To hang metal wall art, simply use pin head nails in the many nooks and spaces available in the design.
• Given the handmade nature of this product, please allow for minor variations. As the metal is recovered from recycled oil drums and colored through a burning process, it will vary slightly in coloration. Typically, the piece has a darkened steel patina.
The Power Of Fair Trade Employment

When you visit Croix des Bouquets, the area of Port-Au-Prince known for metal work, you're met with a cacophony of tink, tink, tink as ball peen hammers strike sheets of steel. The sheets are cut from steel drums coloured by oil and other liquids the drums at one time held.

The Croix des Bouquets mission is to offer income-generating opportunities to craftspeople in developing countries by following fair trade practices including paying in advance at least the market price for items, ensuring that craftspeople receive fair payment in fair working conditions. They work directly with artisans, craftspeople, and producer groups to achieve these goals and hopefully help improve the lives of some of the people with whom we share this planet.
Your Purchase Makes 3x Real-World Impacts:
1. Every treasure on our store is socially responsible — ethically produced by artists, makers, crafters and creators paid fair wages in safe and generous working environments.
2. Every treasure has local & sustainable giveback baked in through our partnership with Buy1Give1 — so your purchase directly impacts people's lives, helping communities across the world thrive.
3. Every treasure = 1 tree planted through our partnership with the Eden Reforestation Project — if you purchase 3 treasures, we plant 3 trees, because less isn't always more.
Everything we buy is a vote for the world we want to live in...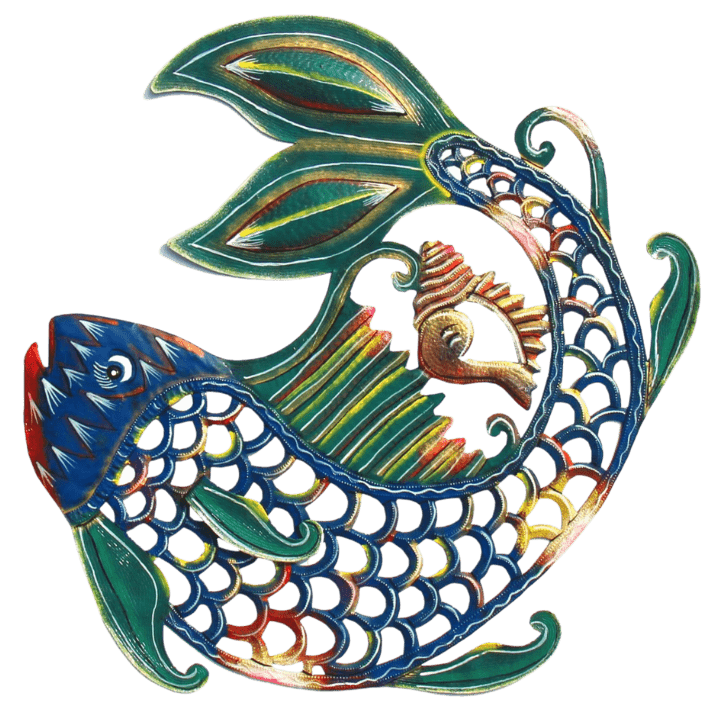 Creating Jobs, Increasing Incomes
Helping Communities Evolve And Thrive
This treasure is brought to you by Caribbean Crafts — a female owned company in Haiti focused on the socially responsible goal of enabling artisans to live a good life.
Caribbean Crafts is committed to ecological uses for recycled material, like their renowned oil drum art, which is made from recycled steel drums found around Haiti. They're also committed to providing various assistance to artisans. Offering staff local training programs, feeding programs and literacy programs. Supporting Haitian artisans with: Fair wages • Health and accident insurance • A pension system • Interest free loans to meet their own needs when crises strike.