Alaska Set of 6 White Tuxton Mugs
In Stock
◎ Automatic 20% OFF any 2 Tuxton treasures at checkout
◎ Free shipping — carbon neutral, too
◎ Available in continental USA only
◎ No BPA, PFOA, PTFE, lead or cadmium
◎ This treasure = 3x the good



Tuxton vs Leading Brands
3 Tough Tests in 45sec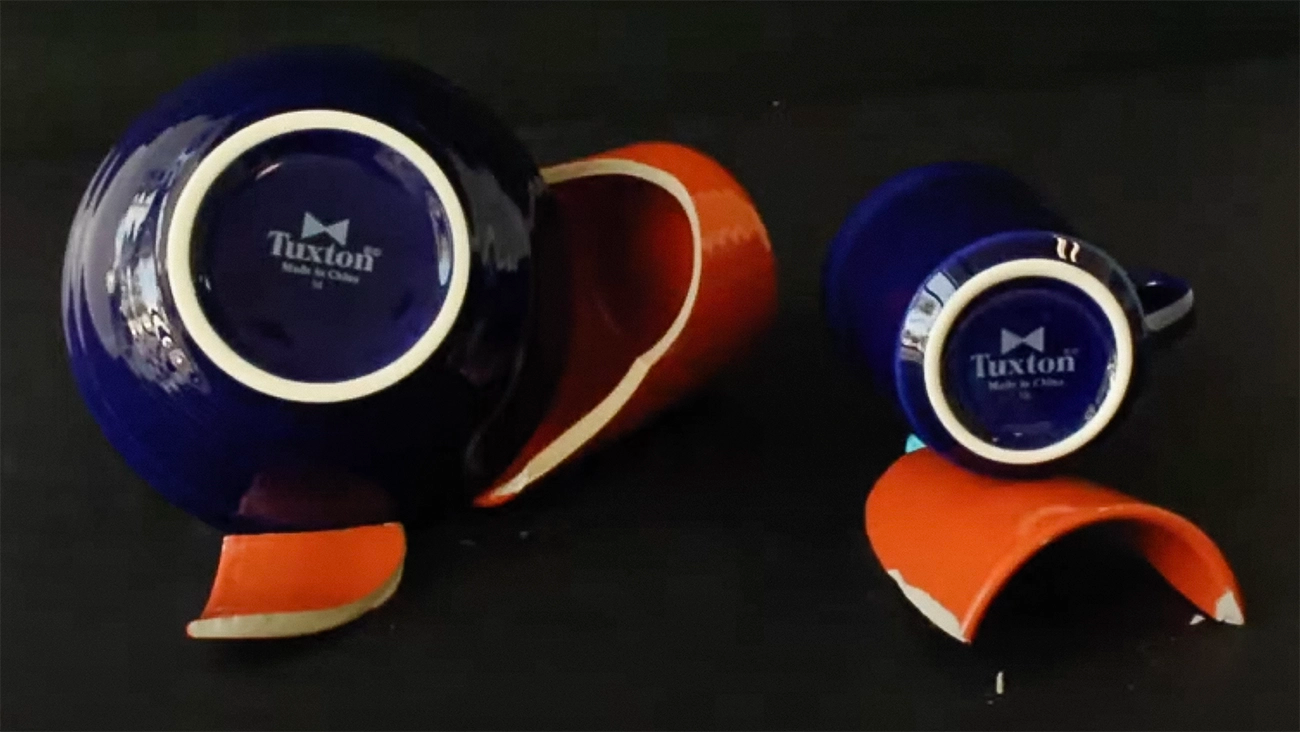 NON-TOXIC DISHWARE and Cookware
Non Toxic. Food Safe. BPA, PFOA, PTFE, Lead & Cadmium Free.
Tuxton Mugs Are Perfect for Entertaining
The Alaska Set of 6 white mugs will add a touch of room service elegance to your home decor. Whether you're hosting a dinner party or having a cozy night in with friends, these non toxic coffee mugs are the perfect way to serve guests coffee over breakfast. Or you could treat them like ramekins for smaller servings of luxe treats at dinner parties. With their classic white design, they complement any table setting and add simple sophistication to any occasion.
Details: Porcelain White • 8.5 Fluid Ounces •  3.0" L x 4.25" W x 3.75" H •  Six (6) Mugs
Consciously Sustainable Tuxton Mugs
Tuxton Home non-toxic dishware is ethically made at every stage. So these non toxic coffee mugs are just one small part of Tuxton's sustainability vision. Crafted with food-safe ceramics, these simple and elegant mugs have no lead, cadmium or other chemical nasties. Restaurant-grade, timeless style that's built to last. Saving you money in the long run while helping heal the planet... just a smidge, but every smidge counts.
Non Toxic Coffee Mugs: 
A Perfect Gift For Just About Anyone
Looking for a thoughtful and practical gift you can't go wrong with? Look no further than the Alaska Mug Set. These non toxic coffee mugs would be appreciated by students, busy mums, or as housewarming gifts for just about anyone. Don't let their chic simplicity fool you. These restaurant-grade mugs will stick around. Long enough to remind you of the wise choice you made, and remind everyone else what well made looks like. 
—
1. Chip-Resistant Durability
Designed for heavy-duty use, every product is thermal shock tested. This ensures that our ware can go from freezer to oven to table repeatedly without issue.

2. Oven Safe to 500°F
Our high-fired ceramics can withstand up to 500°F in the oven. Re-heat dishes with ease on presentation-worthy dinnerware.

3. Dishwasher and Microwave Safe
Our ceramics are both microwave friendly and dishwasher-safe, making re-heating and clean up a breeze!

4. Lead and Cadmium Free
Our lead and cadmium free products are a safe selection to ensure your family's safety when dining in.

5. Colors Won't Fade
During our traditional firing process, color pigments fuse with the glassy glaze. Colors are guaranteed to remain as vivid and vibrant as the day the ceramics come out of the kiln.

6. Food Safe
Non-porous vitrified china does not discolor, react with food, alter flavors or absorb any odors. It is an ideal vessel for storing and freezing food, and surpasses the highest standards required for culinary professionals.

7. Designed to Stack
Each piece is ergonomically designed for comfortable handling and easy stacking. Enjoy the hand-thrown appeal and custom coloring of every piece along with the ease of storage.