14" Extra Large Wheat Izere Round Basket - African Woven Wall Art Decor
Only 30 Left In Stock...
'I love everything I have bought from Kazi. One-of-a-kind pieces that light up a room.' - Susan (USA)
+ Automatic 20% OFF any 2 Kazi pieces at checkout
+ No returns / exchanges - end of line stock
+ FREE carbon neutral shipping
+ USA only: ships from California
+ Ethically handmade African fair trade
+ Your new treasure = 3x the good



Handmade In Africa
Weaving Hope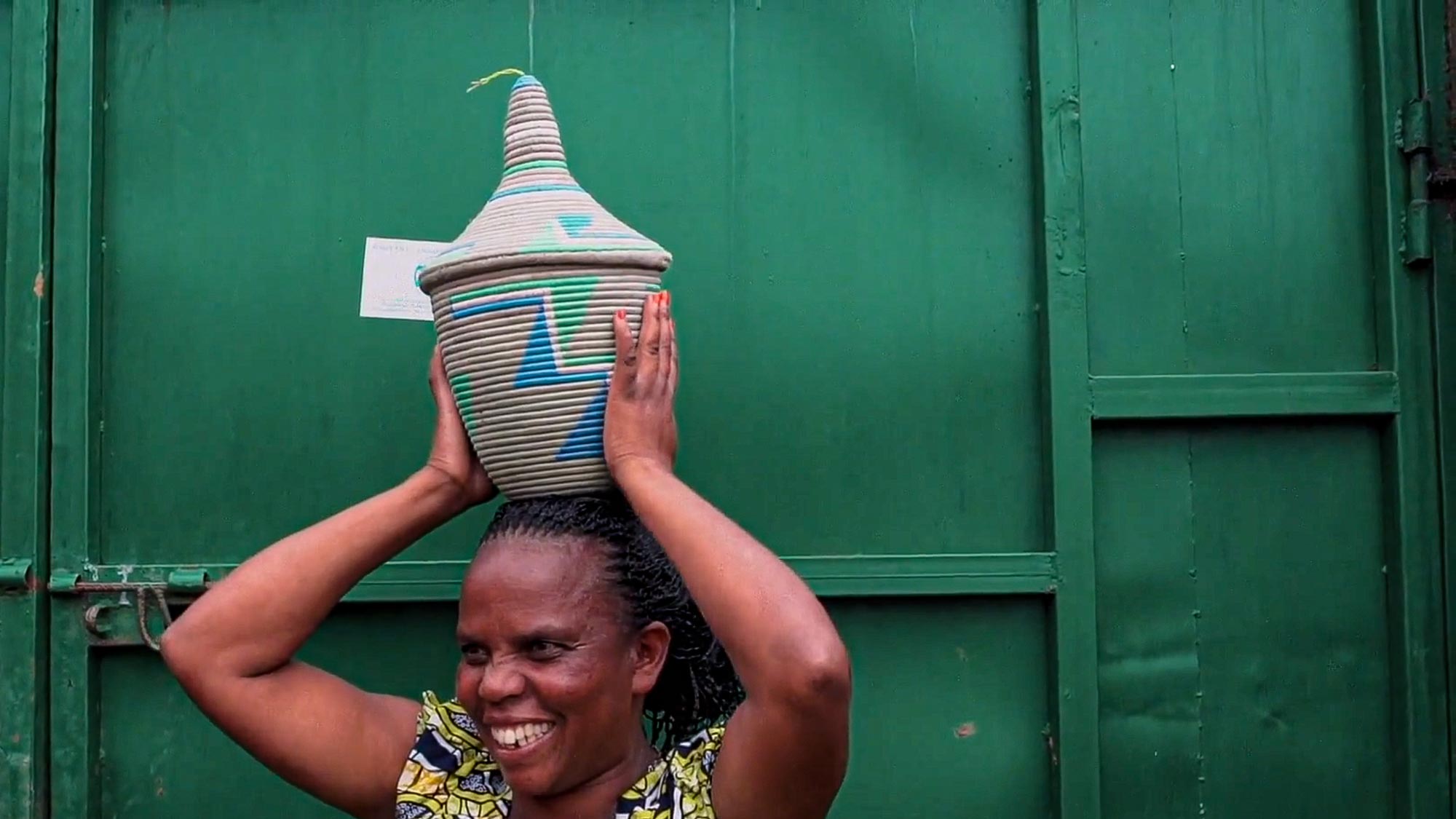 Kazi Goods - HANDMADE IN RWANDA

You won't be able to keep your eyes off this gorgeous statement piece.
Our extra large woven basket is a true work of art.  The 14" Rwanda basket is an exquisite centerpiece to any tabletop or as eye-catching wall decor.  A must have for every home decor enthusiast!  Looking to give a great gift?  These versatile baskets are a fantastic choice!  Use it as a statement piece or pair with other wall paintings or baskets.  Each basket comes with a hand-stitched loop on the back so it arrives as ready to hang wall art.
This will soon become your favorite decorative piece in your home. 
Made of the highest quality natural fibers in an ethical, fair trade environment.  These delicately textured and woven baskets were made by groups of women in intimate communities across rural Rwanda where sisal fibers are wound stitch by stitch around a small sweetgrass bundle.  Handwoven by a woman over the course of roughly one week in her home in remote regions of Rwanda.
Specifications:
Approximately 14" D x 4.5" H

Fair Trade, Nest Seal of Transparency

Handmade in Rwanda

Products are made from all natural fibers of sisal and sweetgrass

Organic dyes are used to dye the sisal

Profiled weaver tag is attached to each product

Baskets have a hang loop on the back for wall decor
*All products are made by hand with love and vary slightly in color and size.
Made of the highest quality natural fibers in an ethical, fair trade environment. Sisal is wound stitch by stitch around a small sweetgrass bundle. Handwoven by a woman in remote regions of Rwanda.
Discover Kazi Goods: Impact Artistry
At Kazi Goods, craftsmanship and ethics intertwine to create a tapestry of beauty and change. Let's dive into the heartwarming narrative of how Kazi Goods meticulously handcrafts their exceptional wall statement pieces. From sustainable practices to empowerment, this is a story that brings joy, sustainability, and lasting impact to your space.
Empowering Artisans, Transforming Lives
At the core of Kazi Goods is empowerment. Our African artisans nurture fibers right at their homes, fostering self-sufficiency in their craft. This isn't just about materials; it's about creating a brighter future for entire communities. As these artisans flourish, they share their success by providing opportunities for others. This ripple effect of empowerment is what fuels our mission.
From Nature to Elegance: Crafting the Journey
Creating a Kazi Goods piece is a journey of inspiration and skill. Their global design team collaborates closely with African artisans to conceive pieces that seamlessly fit modern homes. The true magic lies in the materials – raffia, elephant grass, and sisal, all harvested responsibly. Natural dyes bring these materials to life in vivid colors, harmonizing nature and creativity.
Artistry in Every Stitch: Weaving the Story
Each Kazi Goods piece is a testament to artistry and unwavering dedication. Artisans, often in groups or at home, embrace a time-honored weaving process. They meticulously shape fibers into patterns that narrate stories and carry forward tradition. The outcome? A piece that's not merely decorative, but deeply meaningful. It's a tribute to craftsmanship, heritage, and the sheer joy of creation.
Beauty, Ethics, Impact: Triple Commitment
Kazi Goods goes beyond aesthetics; it's about values. Their designs seamlessly blend tradition with contemporary aesthetics, bringing beauty to everyday life. Sustainability is the foundation – from responsible materials to clean energy practices. And the impact? It's profound. By ensuring artisans receive fair wages, Kazi empower communities by uplifting lives.
I received the Restorative Woven Bowl through the Stellar Product Testing Panel. It is very well made and the rich colors blended in perfect with existing art and a table in my office. There are 4 loops for hanging, making it easy to rotate to get the look you want. I love that the artisan's story was included on the back of the bowl. I also love that the company is committed to sustainability and providing a living wage to women all over the world. I look forward to adding a few more pieces to my wall.
I'm so impressed by the craftsmanship of this beautiful 14" woven bowl that I received from the Stellar Product Testing Panel. It truly is a piece of art. I thought about using this in the kitchen to hold fruit because it's surprisingly sturdy, but with it's vibrant colors and texture, along with it's lovely sweet grass smell, I just had to display it on the wall. It arrived with a book showing how to hang in various designs by using the loops on the back. The bowl itself had a tag with a photo of Eulerie, the Rwandan women who wove the bowl. This was a nice personal touch which inspired me to go to Kazi's website to read more about these amazing women and their beautiful craft. I will be purchasing more of these woven goods for both myself and to give as gifts. We'll done!
I love when things look even better in person and that is certainly the case with this gorgeous artisan bowl. The colors are beautiful and the design pattern is simple yet stunning. The weave is tight and flawless. I am proud to have it hanging on my wall, for now. I am thinking about making it the center piece on my dining table. I've received compliments and am proud to point out that it came from KAZI, who supports artisans with fair wages (not a massed produced chain item). Thank you to Stellar for allowing me to test this product as part of their panel.
I received this woven bowl as part of the Stellar Product Testing Panel. I've been looking for decorative pieces to display and this certainly meets the need and even better yet, matches my home decor. I love the earthy tone it has with it's beautiful colors and materials used. The bowl came with a booklet of ideas on how to create a beautiful wall display. Since I only have one bowl, I opted to a table centerpiece and filled it with cinnamon pinecones for the fall/winter season. The material used and the way it's woven seems as though it is very sturdy and will last a very long time, even in a kid-friendly and pet-friendly home. Since I've displayed it, I've received compliments from everyone who has visited! Kazi's mission is inspiring and I hope more companies follow their path to help improve the African nation, reduce poverty, all with such amazing, beautiful talent. I am sharing my thoughts to all my friends and family to expand support to such an uplifting cause.
I received this 14' woven bowl from the Stellar Product Testing Panel. When I opened the box, I was presently surprised at the quality of the bowl. It's a handmade product from Rwanda, and wonderfully made. The bowl itself is heavier than expected but very sturdy. Currently, it's on our front console table, so we put mail and keys in it when we walk in the door. It has already gotten several compliments from friends and family. overall it's a pretty neutral bowl, but there are some great pops of color woven into the bowl, and lucky enough it matches my color palette at home. It's very sleek and modern, but at the same time a bit of a boho type vibe, which we are transitioning into. It will go well with a lot of color palettes. I highly recommend this design as a great eye-catching decor item, but also a great way to organize all the stuff you walk in the front door with and don't want to just drop and scatter everywhere. There are also small loops woven into the back of the basket, so you can hang this and turn it into wall art as well. The great design along with the companies sustainability mission makes this a truly great item!