10" Abstract Apricot & Seafoam Hot Pad - Fair Trade Art Decor
Only 39 Left In Stock...
'I love everything I have bought from Kazi. One-of-a-kind pieces that light up a room.' - Susan (USA)
— Automatic 20% OFF at checkout
— Explore more Kazi Goods treasure
— Free shipping: carbon neutral, too
— Available in continental USA only
— No returns / exchanges: see why below
— Your new treasure = 3x the good



Handmade In Africa
Weaving Hope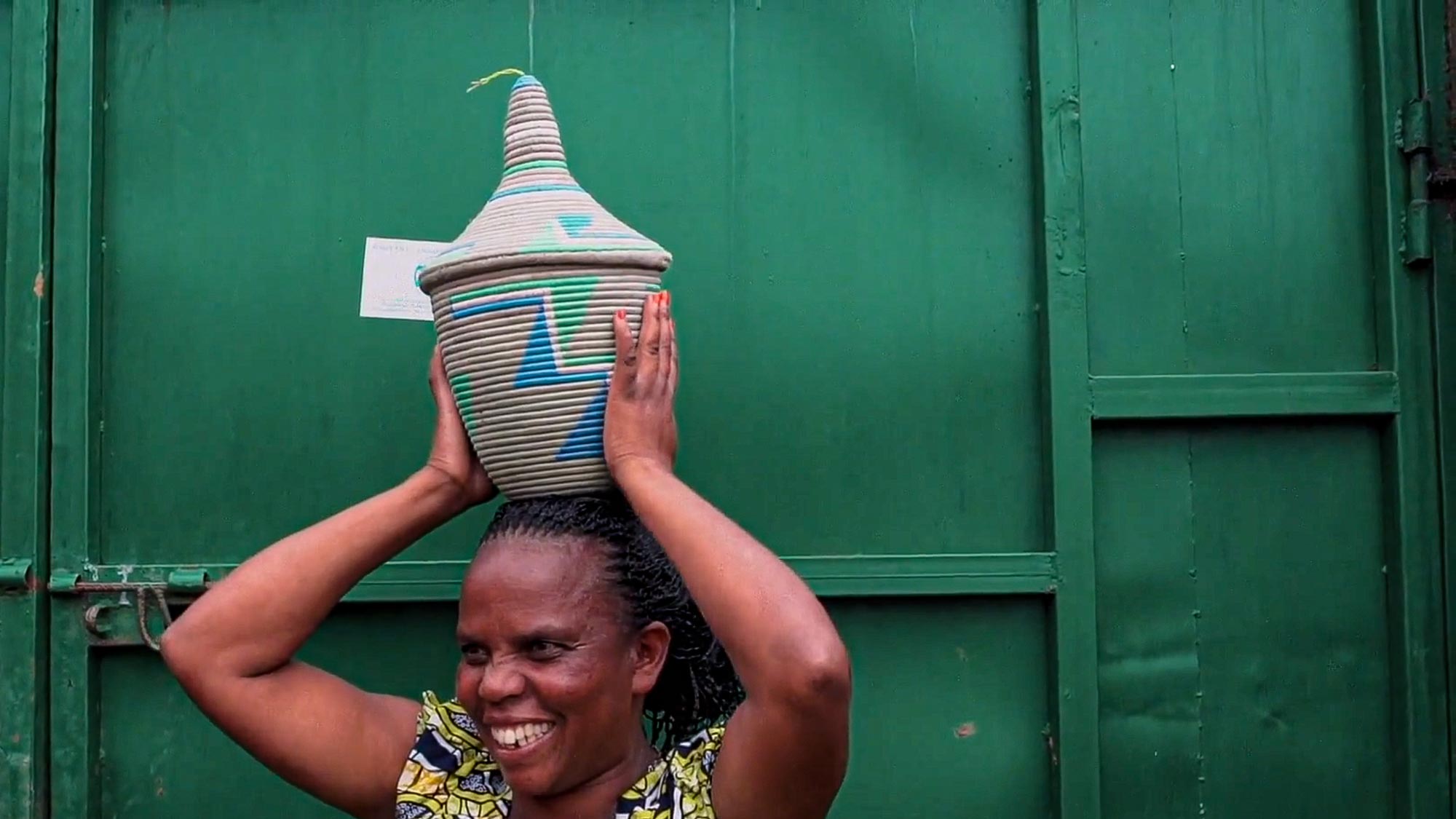 Kazi Goods
HANDMADE IN RWANDA
These hot pads are functional home decor !
This trivet serves as a hot pad protector for any countertop or tabletop and is sure to be a conversation started with family and friends you are serving.  You can't go wrong with a trivet as a thoughtful hostess gift for mom, grandma, or a new neighbor!  Our sisal trivet is super useful in every home and will match your indoor and outdoor decor.  If you happen to give it to a non-baker, the woven trivets are ready to hang on your wall as a simple yet breathtaking piece of wall art.  Each trivet comes with a hand-stitched loop on the back so it is ready to hang.
These colorful, textured trivets were made by groups of women in small cooperatives across rural areas of Rwanda in an ethical, fair trade environment.  They weave together sweetgrass and sisal fibers using a sewing needle to achieve these incredible pieces of art. 
Specifications:
Approximately 10" D 

Fair Trade, Certified Nest Seal of Transparency

Made in Rwanda

Products are made from all natural fibers of sisal and sweetgrass

Organic dyes are used to dye the sisal 

Profiled weaver tag is attached to each product

Each trivet has a hand-stitched loop on the back for quick hanging

Heat resistant, great for protecting tables and countertops
*All products are made by hand with love and vary slightly in color and size.
Made of the highest quality natural fibers in an ethical, fair trade environment. Sisal is wound stitch by stitch around a small sweetgrass bundle. Handwoven by a woman in remote regions of Rwanda.
Discover Kazi Goods: Impact Artistry
At Kazi Goods, craftsmanship and ethics intertwine to create a tapestry of beauty and change. Let's dive into the heartwarming narrative of how Kazi Goods meticulously handcrafts their exceptional wall statement pieces. From sustainable practices to empowerment, this is a story that brings joy, sustainability, and lasting impact to your space.
Empowering Artisans, Transforming Lives
At the core of Kazi Goods is empowerment. Our African artisans nurture fibers right at their homes, fostering self-sufficiency in their craft. This isn't just about materials; it's about creating a brighter future for entire communities. As these artisans flourish, they share their success by providing opportunities for others. This ripple effect of empowerment is what fuels our mission.
From Nature to Elegance: Crafting the Journey
Creating a Kazi Goods piece is a journey of inspiration and skill. Their global design team collaborates closely with African artisans to conceive pieces that seamlessly fit modern homes. The true magic lies in the materials – raffia, elephant grass, and sisal, all harvested responsibly. Natural dyes bring these materials to life in vivid colors, harmonizing nature and creativity.
Artistry in Every Stitch: Weaving the Story
Each Kazi Goods piece is a testament to artistry and unwavering dedication. Artisans, often in groups or at home, embrace a time-honored weaving process. They meticulously shape fibers into patterns that narrate stories and carry forward tradition. The outcome? A piece that's not merely decorative, but deeply meaningful. It's a tribute to craftsmanship, heritage, and the sheer joy of creation.
Beauty, Ethics, Impact: Triple Commitment
Kazi Goods goes beyond aesthetics; it's about values. Their designs seamlessly blend tradition with contemporary aesthetics, bringing beauty to everyday life. Sustainability is the foundation – from responsible materials to clean energy practices. And the impact? It's profound. By ensuring artisans receive fair wages, Kazi empower communities by uplifting lives.
I received the product through the Stellar Product Testing Panel and it is so beautiful! It's very thick and you can tell it's really well made. The design, the style and material went beautifully with what I already had in my house and the material was really nice. Kazi's commitment to sustainability, supporting artisans, and fair wages is a really big deal to me too because I know it's supports the same values I have. Overall, I loved it and enjoy having it on display.
I received this Kazi 10" table plate from the Stellar Product Testing Panel. The first thing I noticed is how incredibly well-made and beautiful it is! The craftsmanship is amazing, and it looks lovely against my wooden table. The attached card says that the trivet was made by Christine from Rwanda, whose wages are helping her make improvements to her home and save money to send her kids to school. I was touched by Christine's story, and struck by how it closely resembles my own. Meeting the needs of our families, safe and comfortable housing, and education are common goals no matter the community or circumstances we were born into. As I read Kazi's mission statements, I was impressed by how this company not only sells beautiful handmade goods to a ready market in wealthy nations, but does so in a way that offers dignity and a living wage to the artisans. This is a mission I can get behind. Thank you for the opportunity to test this table plate, and introducing me to a company I feel great about supporting!
I was so excited to receive this 10" table plate to try as part of the Stellar Product Testing Panel. It is stunning! So well made with such beautiful colors! And Kazi's commitment to sustainability and their support of the artisans who make these beautiful products makes it a company I love to support! This is a perfect accent piece or hostess gift!
When I opened this 10" decorative table plate, I was pleasantly surprised at how solidly it is made. It is woven very tightly and smoothly, so it lays completely flat and feels as though it will be very durable. The texture is pleasant both to look at and to feel. It is a lovely addition to my table decor for autumn, but could easily be used year-round. It would be a unique gift to share with a hostess, or to use as a raffle prize. My favorite aspect of this item is that it really was made in Africa. Knowing that each purchase helps a woman to support her family makes me smile. It even has a faint scent of grassses, which is such a nice, authentic touch. I have never traveled overseas, but having a bit of African artistry here in my midwestern United States home is pretty special. Thank you to the Stellar Product Testing Panel for letting me try this decorative table plate!
Received as a part of the Stellar Product Testing Panel. Love how it matches my existing decor. Does a great job as a giant coaster. I like the texture of the table plate and the tight weaves. Very well made