Non-Toxic Dishes
Tuxton Home Non Toxic Dishware, Bakeware + Cookware
More On...
Tuxton Home Non Toxic Dishware, Bakeware + Cookware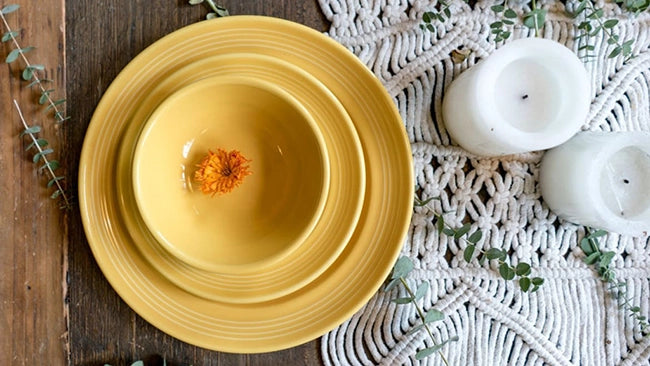 Sustainable Cooking and Dining Made Easy with Tuxton Home
Tuxton Home employs sustainability initiatives at every stage of production. Reducing impact on the environment and working to restore local ecosystems.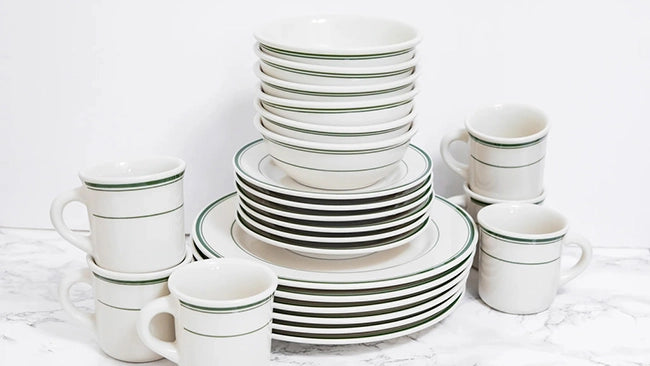 The Pros and Cons of Using Ceramic Dinnerware for Everyday Use
Is ceramic dinnerware the right choice for your home? Learn about its durability, versatility, and eco-friendliness — exploring alternatives and more.
Tuxton Home FAQs
Tuxton Home is a brand that specializes in professional-grade dinnerware and cookware for the home. Their products are designed to be durable, stylish, and safe for everyday use, with a focus on non-toxic materials. Tuxton Home offers a wide range of products, including plates, bowls, mugs, pots, pans, and baking dishes, all made from high-quality materials such as porcelain, stainless steel, and ceramic.
Tuxton Home's commitment to non-toxic materials sets them apart from other popular dinnerware and cookware brands, making them a top choice for health-conscious consumers.
In addition to their focus on safety, Tuxton Home's products are also designed to be functional and beautiful, with a range of designs and colors to suit any taste or decor.
Tuxton Home's customer satisfaction guarantee, along with their positive customer reviews, speaks to the quality and reliability of their products. Whether you're looking for new dinnerware or cookware, Tuxton Home is a brand that you can trust to provide high-quality, professional-grade products for your home kitchen.
Tuxton Home is a leading manufacturer of professional-grade dinnerware and cookware for the home kitchen.
Tuxton Home dinnerware
Made from high-quality porcelain, which is both durable and elegant:
• Tuxton Home bowls come in a variety of sizes and styles, from classic round bowls to square bowls with a modern edge.
• Tuxton Home plates are also available in different sizes and styles, from small dessert plates to large dinner plates.
• Tuxton coffee mugs are perfect for enjoying a cup of coffee or tea, with a comfortable handle and a sleek design.
Tuxton Home bakeware
• Tuxton baking dishes are made from high-quality ceramic, which distributes heat evenly for perfect baking results.
Tuxton Home cookware
Made from materials such as stainless steel and ceramic, which are both durable and easy to clean.
• Tuxton cookware products are designed to distribute heat evenly for perfect cooking results, whether you're making a stir-fry or cooking a roast.
• Tuxton Home non-stick pans are non-toxic and bursting with other benefits.
• Tuxton cookware is also compatible with induction stoves, making it versatile for any kitchen and perfect for everyday use.
Tuxton Home achieves sustainability through its choice of materials and ethical production processes in several ways. Firstly, they use sustainable materials such as ceramic and stainless steel in their products. Both these materials are durable, long-lasting, and eco-friendly. Reducing the need for frequent replacements and conserving natural resources. Additionally, Tuxton Home uses ethical production processes that prioritize waste reduction, energy efficiency, and eco-friendly packaging.
Learn more about Tuxton's sustainability and social responsibility initiatives.
Here's a handy, clickable list of all the Tuxton Home treasure we have on our store:
Orders and Shipping
All Tuxton Home products ship for free throughout the continental USA.
We do not offer Tuxton Home outside the continental USA at this time.
Tuxton Home ships their wares across the continental USA 2-3 business days after you place an order. Delivery should be expected 3-4 business days after the order is shipped.
EASY-PEASY 1, 2, 3
We Gladly Accept Returns & Exchanges
⏳ You're welcome to open a return / exchange request within 7 days of delivery. For any items in your order, except discounted / sale items.
⌛️ All returned items must arrive back within 15 days of delivery. In their original condition, with their original packaging included.
Non Toxic Dinnerware
When it comes to non toxic dinnerware, it's important to be mindful of two things: what your dinnerware is made of, and what you're cooking and serving your food on.
— Many non toxic salad plates, coffee mugs and soup bowls are made of materials like bamboo, earthenware, or glass.
— Stoneware is usually a safer option than earthenware, as the former is fired at higher temperatures, making it stronger and more durable.
— Glass is also a safe option, particularly soda lime glass, borosilicate glass, and glass ceramic. While it may contain lead, it does not easily or noticeably leach out.
— Some dishwasher-safe plates can leach toxins into your food if they're not properly washed.
— Lead and cadmium are two metals that can be particularly harmful, so it's important to choose dinnerware that doesn't contain them.
— Lead is the most common concern for toxic dinnerware. Lead can cause brain and nervous system development issues in children, as well as kidney damage or high blood pressure! The World Health Organization (WHO) states pregnant women should be especially careful when selecting their kids plates or kitchen décor generally. Lead exposure during pregnancy has been shown to result in lower intelligence scores among offspring later on.

In addition to choosing the right materials for your non toxic plates and bowls, it's also important to think about what you're cooking and serving your food on.
Non-toxic cookware is a great way to avoid harmful chemicals and metals. Food grade stainless steel, cast iron, and enameled cast iron are all great options for toxin-free cooking. When selecting bakeware, look for materials like silicone or glass instead of aluminum or nonstick coatings, which can release harmful fumes when heated.

By choosing non-toxic dinnerware, tableware, and cookware, you can help protect yourself and your family from harmful pollutants and toxins with every meal.
Lead
The amount of lead that is considered safe has been lowered over the years as we have learned more about the dangers of lead exposure.
Even low levels of lead in the blood can cause brain damage, behavior problems, and learning difficulties.
Lead is especially harmful to young children and pregnant women. Pregnant women who are exposed to lead can pass the lead on to their unborn child, which can cause a wide range of health problems, including brain damage, learning disabilities, and behavioral problems.
The best way to protect yourself and your family from the dangers of lead is to use only non-toxic dinnerware.
There are many brands of dinnerware that are made without lead, so there is no need to take chances with your health. Make the switch to non-toxic dinnerware today.
BPA
Bisphenol A, also known as BPA, is a chemical used in the production of plastics and resins. While it has many industrial applications, it has come under fire in recent years due to its potential health risks.
Studies have linked BPA exposure to a variety of problems, including developmental defects, cardiovascular disease, hypertension, and obesity. As a result, many companies have started to produce BPA-free products, and consumers are increasingly seeking out alternatives to products that contain the chemical.
While the evidence linking BPA to health problems is still inconclusive, the potential risks are significant enough that it is advisable to err on the side of caution.
There are a number of easy ways to reduce your exposure to BPA, such as using BPA-free dinnerware or avoiding canned foods and beverages. By taking these simple steps, you can help protect yourself and your family from the potentially harmful effects of this chemical.
Cadmium
Cadmium is a toxic metal that can cause a range of health problems, including kidney disease, bone disease, lung disease, and reproductive and gastrointestinal issues.
Exposure to cadmium can also lead to flu-like symptoms, neurological problems, and even death. Cadmium is found in a variety of consumer products, including dinnerware, food containers, and electronics. It is also used in the production of batteries, pigments, and coatings.
Cadmium can be harmful at high levels of exposure, so it's important to use cadmium-free dinnerware and avoid exposure to this potentially dangerous metal.
Melamine
No definitive answer exists on whether melamine dinnerware is safe. The Federal government has not issued a ruling on the matter, and manufacturers continue to use the substance in their products.
Some experts believe that formaldehyde, a controversial substance used to craft melamine dishes, may leach into food when heated. This is especially true of acidic ingredients, such as pasta with red sauce.
Additionally, old and worn-out melamine plastic leaches more easily than new plastic. For these reasons, it may be wise to avoid using melamine-containing products.
It is also important to avoid bamboo products that contain melamine, as these can also leach chemicals into food.
Phthalates
Phthalates are a class of chemicals used in a variety of consumer products, from food packaging and personal care products to toys and building materials. These chemicals can have serious health effects, particularly on children's developing bodies.
Studies have linked exposure to phthalates with a range of problems, including attention-deficit hyperactivity disorder (ADHD), breast cancer, asthma, low IQ, autism, reproductive issues, behavioral problems, obesity, and type II diabetes.
The good news is that there are alternatives to products containing phthalates. Many companies now offer phthalate-free versions of their products.
So next time you're shopping for dinnerware or any other consumer product, make sure to check for the phthalate-free label. It's a simple way to protect your family's health.
What materials are the best non toxic dinnerware sets, cooking utensils and food storage made from?
—
Foor Grade Silicone
100% food grade silicone products are a great replacement for traditional plastic products — great for your kid's dinneware, food storage containers, baby spoons or a toddlers place setting. They're basically unbreakable and generally free from PVC, phthalates, BPA and BPF. Food grade silicone is also dishwasher, microwave and freezer safe. Plus, it doesn't harbor mold or bacteria, but can hold onto smells, so wash it well with warm soapy water before storing!
Acacia Wood vs Bamboo Dinnerware
The pros of dinnerware options made from acacia wood:
• Acacia dishware is harder wearing than bamboo dishware.
The cons of acacia dishware:
• Slower-growing wood and heavier to ship than bamboo. So it is marginally less eco-friendly overall.
The pros of dinnerware made from bamboo:
• The advantage of bamboo is it's fast-growing and lightweight to ship.
The cons of dinnerware made from bamboo:
• Bamboo dinnerware is more prone to breakage than acacia wood dishware.
• It's best not to put bamboo pieces in the microwave.
• Check bamboo dinnerware is just made with bamboo. Typically, if bamboo dinnerware options are 'dishwasher-safe', they're mixed with melamine plastic.
Borosilicate Glass / Soda Lime Glass
Glass is one of the safest options for non toxic dishware. Seek out a dinnerware set made of clear borosilicate glass or soda lime glass without any decals or decorations, because each decoration is another possible site for toxic chemicals.
If your dishware or antiques were made before 1970, it is best to avoid them because they may contain lead. The FDA didn't test for lead before 1970.
Storing food in bowls or containers with a glaze can cause the food to leach out and become unhealthy. This is especially true for acidic foods.
If you are heating up a dish with glaze, try not to use the microwave. The heat can cause the glaze to melt and it may not be safe to eat. Instead, use a dish that is made out of borosilicate glass which can handle higher temperatures.
Do away dishes and cutting boards made of hard plastic. This type of plastic is usually made from formaldehyde, which can be harmful to your health.
Be careful when buying dinnerware made with glazed terra cotta. The glaze often contains toxic chemicals. This is especially true if the dinnerware is from Mexico or the Southwestern United States.
Be careful when you are cleaning dishes that have a glaze. If something chips or scratches, you may want to get rid of it to avoid toxic chemicals leaching into your food.
You don't need to use the dishwasher as much as you might think. In fact, it can be hard on the glazed surfaces of dishes. So try to hand-wash them instead.
It is best to avoid using aluminum-coated plates, bowls, and dinnerware. It is better to get rid of dishware with toxic heavy metals and chemicals altogether.
When you are choosing dishes to use for displaying food, avoid dishes that have stickers or stamps that say "decorative" or "not for food use." It is also important to avoid dishes that have a glaze which contains lead.
If you are looking for Terra Cotta dishware, avoid traditional glazed Terra Cotta made in Latin American countries and the southwest, such as Mexican bean pots, because the glaze often has lead in it.
Avoid homemade and hand-crafted tableware, unless you confirm the maker uses lead-free glaze.
Some traditional, ornately decorated dishes used in some Asian communities have lead in their glaze or paints.
Be careful of decorations on top of the glaze. Can you feel the raised decoration when you rub your finger over the dish? That means the decoration is on top of the glaze, and once that decoration begins to wear away, it increases your lead hazard because that raised decoration may leech toxins into your food.
Beware antique tableware (pre 1970) that may be passed down in families or found in vintage stores / yard sales. This tableware might not be safe to use because the FDA didn't check for lead volume in dishware until 1970.
See a piece of tableware with a corroded glaze or a dusty, chalky residue on it after washing? Stop using it right away. That chalky residue most likely means the tableware is a severe lead hazard.
Beware dishes with bright orange, red, or yellow colors. These colors are often intensified by lead.
Be careful with plastic dinnerware sets. Some chemicals in plastic dishes, like Phthalates and BPA, can mimic estrogen in the human body. This can lead to health issues like negative effects on the heart, brain, and child development.
When it comes to dinnerware, there are actually quite a few regulations in place. Let's look at the FDA and California's Prop 6.
According to the FDA, no more than 3 micrograms of lead can leech from dishware per day. California's Prop 65 is even stricter, allowing only up to 0.5 micrograms of lead per day.
Lead is a very dangerous substance that can build up in the body over time, and there is no safe level of exposure. That's why it's so important to be aware of these regulations and make sure that our dinnerware meets or exceeds them. By doing so, we can help protect ourselves and our families from the harmful effects of lead exposure.