Non-Toxic Dishware
Meet the Family
More On...
Tuxton Home Cookware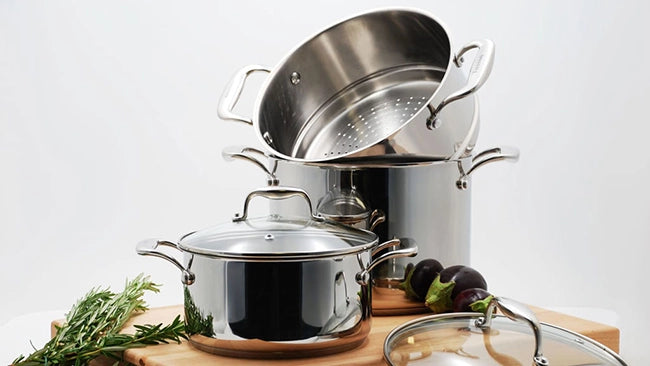 Cook Like a Pro with Tuxton Home Cookware
Upgrade your cooking game with Tuxton Home Cookware. Heavy-gauge tri-ply construction and ergonomic handles make cooking a breeze. Start cooking like a pro!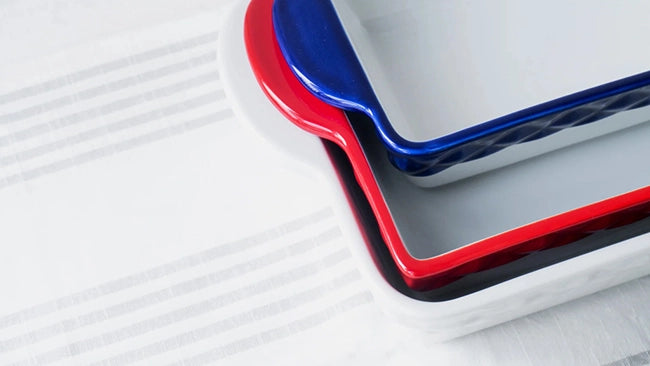 The Top 5 Tuxton Home Products for Baking Enthusiasts
Baking is an art, and every artist needs the right tools to create a masterpiece. Tuxton Home makes just the sort of high-quality bakeware you're looking for...
Non-Toxic Dishes
Tuxton Home Cookware
1. Tuxton Home FAQs
Tuxton Home is a brand that specializes in professional-grade dinnerware and cookware for the home. Their products are designed to be durable, stylish, and safe for everyday use, with a focus on non-toxic materials. Tuxton Home offers a wide range of products, including plates, bowls, mugs, pots, pans, and baking dishes, all made from high-quality materials such as porcelain, stainless steel, and ceramic.
Tuxton Home's commitment to non-toxic materials sets them apart from other popular dinnerware and cookware brands, making them a top choice for health-conscious consumers.
In addition to their focus on safety, Tuxton Home's products are also designed to be functional and beautiful, with a range of designs and colors to suit any taste or decor.
Tuxton Home's customer satisfaction guarantee, along with their positive customer reviews, speaks to the quality and reliability of their products. Whether you're looking for new dinnerware or cookware, Tuxton Home is a brand that you can trust to provide high-quality, professional-grade products for your home kitchen.
Tuxton Home is a leading manufacturer of professional-grade dinnerware and cookware for the home kitchen.
Tuxton Home dinnerware
Made from high-quality porcelain, which is both durable and elegant:
• Tuxton Home bowls come in a variety of sizes and styles, from classic round bowls to square bowls with a modern edge.
• Tuxton Home plates are also available in different sizes and styles, from small dessert plates to large dinner plates.
• Tuxton coffee mugs are perfect for enjoying a cup of coffee or tea, with a comfortable handle and a sleek design.
Tuxton Home bakeware
• Tuxton baking dishes are made from high-quality ceramic, which distributes heat evenly for perfect baking results.
Tuxton Home cookware
Made from materials such as stainless steel and ceramic, which are both durable and easy to clean.
• Tuxton cookware products are designed to distribute heat evenly for perfect cooking results, whether you're making a stir-fry or cooking a roast.
• Tuxton Home non-stick pans are non-toxic and bursting with other benefits.
• Tuxton cookware is also compatible with induction stoves, making it versatile for any kitchen and perfect for everyday use.
Tuxton Home achieves sustainability through its choice of materials and ethical production processes in several ways. Firstly, they use sustainable materials such as ceramic and stainless steel in their products. Both these materials are durable, long-lasting, and eco-friendly. Reducing the need for frequent replacements and conserving natural resources. Additionally, Tuxton Home uses ethical production processes that prioritize waste reduction, energy efficiency, and eco-friendly packaging.
Learn more about Tuxton's sustainability and social responsibility initiatives.
Here's a handy, clickable list of all the Tuxton Home treasure we have on our store:
2. Tuxton Non-Toxic Cookware
One of the great things about Tuxton Home Cookware is that it is compatible with induction, electric, gas, halogen, and ceramic stoves. This makes it a versatile choice for any kitchen, no matter what type of stove you have.
Tuxton Home Cookware features heavy-gauge, multiclad tri-ply construction. This means that each pot and pan has a heat-responsive aluminum core, an easy-care nonreactive stainless-steel 304 interior, and an induction-friendly 430 exterior. This construction ensures fast, even heat distribution for consistent results across the entire cooking surface - all the way to the rim.
The flared easy-pour rims on Tuxton Home Cookware ensure drip-free food transfer. They also make it easy to pour liquids without spilling, making cooking and serving a breeze.
Tuxton Home Cookware features welded fixtures that are smoothly and solidly attached to each vessel. They are easy-to-clean and crevice-free, ensuring that they will last a lifetime.
The hollow stainless steel handles on Tuxton Home Cookware are ergonomically designed for comfort handling and offer an ideal grip for full control of your cooking. The handle is split towards the heat source to help keep the handle cool, making it safer to use.
Etched volume lines on the interior of each pot provide capacity identification and easy measuring when cooking. This feature is especially useful when cooking recipes that require precise measurements.
Tuxton Home's non-stick coating is designed to last for several years with proper use and care.
Yes, Tuxton Home's non-stick cookware is safe for cooking acidic foods.
3. Care for Tuxton Cookware
Before using
Before using Tuxton Home Stainless Steel Cookware, remove all labels. Wash all pans and lids in hot water with a mild soap or dish detergent. Rinse and dry promptly to prevent water spots.
During Cooking
Tuxton Home Stainless Steel Cookware may be used on gas, electric, ceramic hobs and induction ranges. For cooker compatibility information, please check the packaging for details. Where possible, adjust the gas burner or select the proper size of electric surface unit so that the heat touches only the bottom of the cookware. Heat that extends beyond the base diameter of the pan or up the sides may cause discoloration or even damage the handles. The aluminum clad heat distributor featured by Tuxton Home Stainless Steel Cookware on some selected items is very efficient so only low to medium heat settings should be required. High heat should only be used when bringing water to a boil. Never let the cookware boil dry.
Cleaning and Maintenance
Tuxton Home Stainless Steel Cookware is dishwasher safe, but handwashing is preferred to ensure the longevity of the cookware. In time, the cumulative effects of strong agitation and harsh detergent used with the dishwasher will dull the high-gloss exterior, although the performance of the pan will not be affected.
Need more assistance with care and maintenance? Try this Tuxton Home cleaning guide.
Stainless steel vessel and lids are oven safe to 500°F, making Tuxton Home Cookware a versatile choice for any cooking task. But to maintain the attractive appearance, using this cookware in an oven is not recommended.
Glass lids are oven safe up to 350°F. Do not place cookware under the broiler.
When the heat source is too high, the handles and knobs may become hot. Use of oven-gloves or hot pads is recommended.
Yes, Tuxton Home Cookware is dishwasher safe: top rack recommended for lids. However, as with all fine cookware, handwashing is preferred to ensure the longevity of the cookware.
4. Shipping + Delivery
All Tuxton Home products ship for free throughout the continental USA.
We do not offer Tuxton Home outside the continental USA at this time.
Tuxton Home ships their wares across the continental USA 2-3 business days after you place an order. Delivery should be expected 3-4 business days after the order is shipped.
EASY-PEASY 1, 2, 3
We Gladly Accept Returns & Exchanges
⏳ You're welcome to open a return / exchange request within 7 days of delivery. For any items in your order, except discounted / sale items.
⌛️ All returned items must arrive back within 15 days of delivery. In their original condition, with their original packaging included.